Instructions for students taking an un-proctored HEIghten® assessment on Territorium's LifeJourney platform.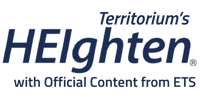 Please read through this entire document before beginning the assessment.
BEFORE YOU START
It will take about 45 minutes to an hour to finish your assessment. Ensure that you can allocate enough time to work without interruptions. Once you start, you must finish it.
Use Chrome browser. Make sure it is installed on your computer before you start.
If you need a calculator, you must use the one provided with the test on your screen.
If you get unexpectedly disconnected, log back in (see below).
E-mail support@territorium.com for technical support.
GETTING STARTED
You should have received a code from your professor to take the test.
Click on "here" to enter your test code.
Type the code. If you already have an account with Territorium, click "Log in"; otherwise, create a new account by clicking "Create account."


Fill in all the required fields. Once you finish, you'll be automatically redirected to your homepage.


You'll see the tests you have assigned. You can also see if a test is open or closed , as well as the start and end dates. When you are ready, click on the test.


TAKING THE TEST
Once you start, review the instructions that appear on the following page. Instructions may change depending on the test you're taking. When ready, click "Start."


Choose your answer and navigate through the test using the "Previous" and "Next" buttons.


You can also move through the questions by clicking on a specific question number.


If you need to highlight a question to return later to it, you can click the "Highlight" button. You'll see the question number marked in yellow.


You'll see how much time is left on the top right corner.


Review the number of questions answered once you're finished and click "Submit and Continue."



You'll be returned to the test's welcome page. The status "Completed" will appear, and also, if available, the "Score Report."


You're done! Congratulations!
IF YOU ENCOUNTER ANY PROBLEMS, CONTACT TERRITORIUM TECHNICAL SUPPORT BY EMAIL AT SUPPORT@TERRITORIUM.COM. BUSINESS HOURS ARE 8:00 A.M. TO 6:00 P.M. (CENTRAL TIME).